By: Sarah Rabea
Our beloved Egypt is well-known for its encompassing mind-blowing historical places. It doesn't only stop at monuments or temples or even museums though, it also includes a variety of historical palaces. Get out your summer journal and make a list of some of the most psychedelic and eye-opening palaces.
1. Prince Yusuf Kamal Palace –  Al-Mattareya
Built in Al-Mattareya, Yusuf  Kamal's palace belongs to the Mohammed Ali family. It was built in the early 20th century by the Italian architect "Antonio Lasciac". The palace has an imposing view of a breath-catching garden.
2. Alfred Shammas Palace – Cairo
This one is pretty much remarkable for its background story, for King Farouk brought his fiancée to stay there till the wedding day. Named after its original inhabitant, the palace is located in Heliopolis. Take a look at it!
3. Prince Bashtak Palace – Cairo
This palace is a stunner with eye-popping ornaments. It is located on Al-Mo3ez street, and built by Prince Seif Al-Dein Bashtak Al-Nasry. Don't forget pay it a visit while exploring Al-Mo3ez next time!
4. PrinceTaaz Courtyard Palace – Cairo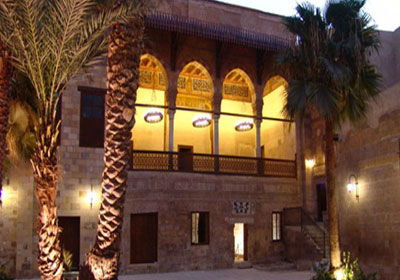 You can not only explore the palace, but also hold events there! Imagine having a talk or doing a performance at such an aesthetically constructed fabrication! You can visit this palace anytime at Ad Darb Al Ahmar, Cairo.
5 #Al Manial Palace – Cairo
Prince Mohammed Ali Tawfik, King Farouk's uncle, built Al-Manial palace between the late 19th century and the early 20th century. The Palace is composed of historical antiques and is surrounded by intriguing historical gardens.
6 #Raas Al-Tin Palace – Alexandria.
Mohammed ALy built it in 1834. This Palace was there during Mohammed Aly's reign. It is one of the biggest palaces in Alex. It was reconstructed during the reign of the king, Fouad.
7 #Aisha Fahmy Palace – Zamalek, Cairo
King Farouk's army chief, Ali Fahmy's palace, was reopened in the mid-2017. The art exhibition, there, is something that you really don't want to miss. Once you land in Cairo or if you already live there, you should rush to this overwhelmingly impressive structure!
8 #Abdeen Palace – Cairo
It is regarded as one of the most luxurious historical palaces in the world for its paintings and adornments. Built by Khedive Ismail, this palace was historically utilized as a venue for official events. Now, you can revisit history by taking a look inside this brilliant construction.
9 #AlTahra Palace – El Zaytoun
Again, another palace by Italian architect Antonio lasciac in an Italianate Palazzo style! He built it for Princess Amina, Khedive Ismail's daughter.
10 #Aleksan Basha Palace – Assuitt
Because king Farouk was so fascinated by this one, he bestowed upon its designer the honorable title of "Pasha." You can find this palace by the Nile River in Assiut!
This was a collection of some of the most significant historical palaces in Egypt. Update your summer journal and tell us which one is your favorite!