Who said that girls and football don't mix? Many people just assume that because a girl is a girl, then she won't be interested in football at all. But guess what? This is a total myth, especially if some of these players are too hot for life.
Girls love details, so while watching the world Cup with you guys we notice things like how well a team is dressed, how great the teams are playing and how hot some players are and we can do nothing about it but watch, watch and watch.
Here are the hottest 10 footballers in the World Cup in no specific order whatsoever. 
#1: Olivier Giroud – France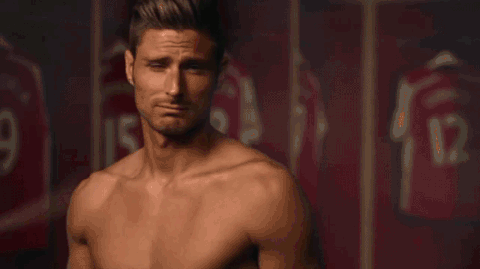 This French beauty is an example of love at first football match. Eye candy to say the least. Je t'aime mon amour.
#2: Gerard Pique – Spain
This hot babe is unfortunately taken by Shakira but this only means that we can obsess over both of them while feeling no shame.
#3: Mats Hummels – Germany
 He is just too good to be true. You see that smile… Can't even.
#4: Antoine Griezmann – France
He's got eyes brighter than all our futures combined.
#5: Robert Lewandowski – Poland
No words are needed to describe how sexy this babe is. No words.
#6: Ramadan Sobhi – Egypt
Some might disagree, but this one is a total babe.
#7: Cristiano Ronaldo – Portugal
Is he a football player or a model? One can't really tell.
#8: Neymar – Brazil
Get yourself a man as talented, sexy and tanned as this one.
#9: Kasper Schmeichel – Denmark
Handsome and funny is this guy up here.
#10: Alireza Jahanbakhsh – Iran
Pretty hot, pretty handsome, pretty many things.
These hotties all make football a little more tolerable.