After the re-releasing of Mohamed Henedy's latest TV series Ard El Nefak, we started reminiscing about the original story that was portrayed by the great Fouad El Mohandes.
This got thinking about all our favorite old movies that we'd like to see come back to life, and it opened a very nostalgic flood gate.
After careful consideration, these were our top choices for the old movies we'd like to see a remake of, and FAST: 
1. Isha3at Hub
This one is still, to this day, a crowd's favorite. From Omar El Sherif's charm, to Soad Hosny's unbeatable charisma, to Abdel Menem Ibrahim's hilarious Hind Rustom impression, everything about this movie is still as fresh and intriguing as it was almost 60 years ago. And if a new version was to be made, we just know it will steal everyone's heart like the first one did.
Possible Cast Choices: 
We are no directors, but just thinking about it, we came up with some initial possible casting choices. But really, we are going to love it regardless.
For the role of the awkward yet incredibly handsome Hussein, we voted for one of our modern day front row stars, Ahmed Ezz. 
As for the charming charismatic Sameha, you know we couldn't think of anyone other than Egypt's sweetheart, Mona Zaki.
2. Bayn El Samaa Wa El Ard
This movie is a classic that will live forever, simply a cinematic masterpiece in every aspect. The amount of stories and front row stars we see and live with in this endless elevator ride is enough to make 4 other movies not just one. Which is why we need to dig this gift that keeps on giving up and revive it so we can have a modern day masterpiece of our own.
Possible Cast Choices:
This was a hard one to imagine considering the amount of stars starring in this movie. But at the top of our heads, this is what we came up with:
In the role of the illusive Nahed Shokry which was played by the ever so enticing Hind Rostom, we thought there is no one better to play it than the one and only Sherine Reda. 
Playing the mentally disturbed role which put a comedy yet creepy twist on this elevator ride was of course the genius Abel Meneem Ibrahim. And we thought no one can fill those pretty big shoes better than our very own Fathi Abdel Wahab.
3. El-Hafid
Not only is this movie a legacy on its own, the problem it discusses -despite the years apart- is still current and relatable to this very day. So re-creating it with a few modern touch ups will strike a nerve with a whole new generation. And you know we are dying to see what could be made out of the hilarious banters between the legend Abdel Meneem Madboly and his children.
Possible Cast Choices:
This movie is also filled with amazing stars from several generations, and it is hard to replace them in our minds but thinking about a 2019 version of El Hafid, this is who we came up with:
Abdel Meneem Madboly: Hasan Hosny 
Karima Mokhtar: Sawsan Badr 
Mervat Amin: Amina Khalil 
Nour El Sherif: Amr Youssef  
4. Al Zouga 13
I know they say that comedy is time dependent, but this movie proved that true comedy can be timeless. Because it's almost 60 years later, and we still laugh our hearts out watching Roshdy Abaza's drunken belly dance moves. So imagine watching a modern day drama/comedy between a playboy and his web of exes; you know it will be even more hilarious now!
Possible Cast Choices:
Roshdy Abaza: We couldn't think of someone better to play the infamous playboy role than our modern day playboy Kareem Abdel Aziz. Just imagining it got us laughing!
Shadya: Who better to play a strong, smart and hilarious woman like Aida (originally played by Shadya) than the strong, smart and hilarious Donia Samer Ghanem?
5. Saghira Aِla El-hob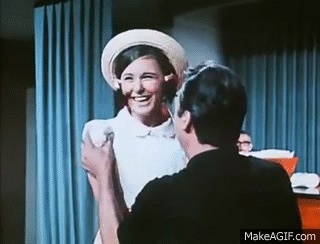 Last but so not least, the forever-living masterpiece that captures all tastes, ages and generations; Saghira Ala El-hob. From the catchy music, to the dance moves,  and the undeniable chemistry between Soad Hosny and Roshdy Abaza, this movie is a full-rounded artistic feast. And you know you are not an Egyptian girl if you have't, at one point of your life, sang and danced along to "Ana Lesa So8ayra". And you are not an Egyptian guy, if you didn't crush on the Cinderella Soad Hosny in that movie. And how could you not?!
Possible Cast Choices:
Soad Hosny: We are not capable of imagining someone in this role other than our modern day Cinderella, Mona Zaki. 
Roshdy Abaza: For this role, we needed a handsome hunk, yet a modest laid back character to fill the humongous shoes of Roshdy Abaza. We had to go with our modern day heart breaker Zafer El Abdein.
This trip down memory lane can last forever but we'll stick to those top favorites for now, because we are getting too nostalgic over here.
What about you, what old movies do you wish to see come back to life? Tell us in the comments!