Lorde's cancelled Israel concert is causing so much drama worldwide!
Lorde was scheduled to perform in Tel Aviv this summer, but due to an online campaign by activists opposed to the Israeli occupation of Palestine, the New Zealand singer-songwriter cancelled her concert in Tel Aviv, Israel.
Lorde mentioned that she took the decision after receiving an "overwhelming number of messages and letters" that moved her to cancel the concert.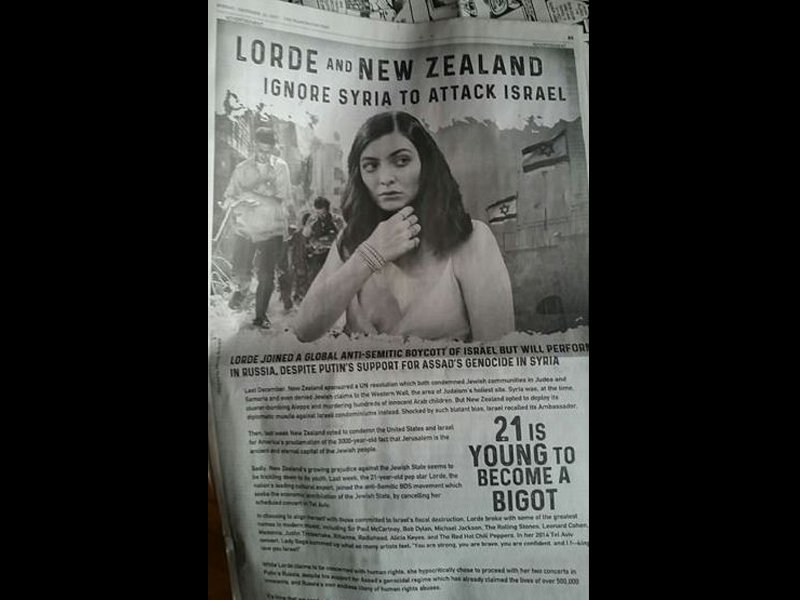 A week later, a full-page advert was placed in the Washington Post calling Lorde a bigot. The ad was place by outspoken Rabbi Shmuley Boteach criticizing the 21-year-old singer for joining "a global anti-Semitic boycott of Israel" while still performing in Russia.
The body text of the ad includes an allegation that "growing prejudice against the Jewish State" in New Zealand is "trickling down to its youth," also criticizing New Zealand for co-sponsoring a UN resolution last year condemning continued Israeli settlements in occupied Palestinian territory.
What has Lorde said so far?
"I pride myself on being an informed young citizen and I had done a lot of reading and sought a lot of opinions before deciding to book a show in Tel Aviv," said Lorde in a statement at the time.
"But I'm not too proud to admit I didn't make the right call on this one."
After acknowledging the first criticism of her concert, she has not responded to the ad that was made in the Washington Post.
Noted! Been speaking w many people about this and considering all options. Thank u for educating me i am learning all the time too 🌸

— Lorde (@lorde) December 21, 2017
Here is @Lorde's statement on the cancellation of her Tel Aviv show, via Israeli PR for the concert. pic.twitter.com/Ph0uGHRjCV

— Amy Spiro (@AmySpiro) December 24, 2017