Known locally as the land of smiles, Thailand is a unique country rich in Buddhist traditions, exquisite food and stunning landscapes – the perfect holiday destination! From city tours, to island hopping or rural wildlife watching, there's an activity for all.
Visa Application Process
Apply for a Tourist Visa through the Royal Thai Embassy in Cairo. You'll need to fill out an application form, provide a passport, as well as a few other documents including an itinerary. Full information on the documents needed is provided on the embassy website. The visa costs 700 EGP for 60 days.
WEATHER
February-March is the perfect time of year to visit as the Christmas peak-tourist season has ended, but weather remains excellent. Temperatures fluctuate from 20-30 degrees at this time of year and rainfall is significantly less than the summer monsoon season. Pack swimwear and make sure to hit the beach!
HOW TO SPEND A WEEK IN THAILAND
Day 1: Arrive in Bangkok, Thailand's stunning capital city
Fly into Bangkok's International Airport, drop your bags off at the hotel and spend the rest of the day exploring floating markets and Buddhist temples, or even rooftop bars and restaurants.
Day 2: Iconic tourist destinations and a cooking class
In the morning take a tuk-tuk ride to The Grand Palace, a must-see destination in Thailand. It's home to both the King's formal residence and the Emerald Buddha Temple (Thailand's most sacred location).
In the afternoon, take a traditional Thai cooking class to learn how to make some national delicacies like Phad Thai, a stir-fried rice noodle dish found on the corner of every street in Bangkok. In the evening, take a night-train from Bangkok to Khao Sok; they're incredibly comfortable and you can even book a private carriage with some suppliers.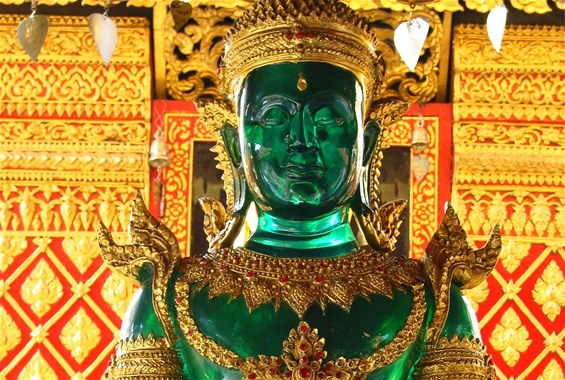 Day3: Arrive in Khao Sok, Thailand's vibrant National Park
A cabin steward will wake you in the morning so you can hop-off at Khao Sok and take a thrilling longtail boat ride to your accommodation in the National Park. Most tourists choose to stay in floating bungalows – a once in a lifetime experience!
Day 4: Wildlife watching and snorkelling
Spend the morning searching for wildlife by foot or kayak, with local species including gibbons, tigers and even hornbill birds.Swap the kayak for a snorkel in the afternoon, and explore the fish-filled waters around your bungalow.
Later in the day you'll have to say a sad goodbye to Khao Sok, before getting a longtail boat and ferry transfer to Koh Tao in the south. Here you can eat in any of the numerous waterfront restaurants, with many serving a combination of Thai food and world cuisines.
Day 5: Arrive at the majestic island paradise Koh Tao
On your first full day in Koh Tao, book a boat tour and explore neighbouring islands like Koh Phangan, which lights up once a month for a beach party like no other – full moon. Alternatively, spend the day on Koh Tao and enjoy their luxury spa retreat, with traditional Thai massages offered on the beach during sunset and sunrise hours. You can opt for a cosy night in, or explore the bustle of Koh Tao's bar and restaurant centre.
Day 6: Margaritas, massages and more relaxation
Spend your last day soaking up the sun and admiring the tranquillity of Thailand's southern islands. Now is the time to try any Thai dishes you haven't yet been able to, like spicy yellow curry which is regularly eaten in the south.
Day 7: Travel home
Take a ferry and bus transfer to Surat Thani, the nearest international airport to fly home. Alternatively, book a scuba-diving course in Koh Tao and stay in Thailand a bit longer. It's a world-class diving destination, and if you're lucky you'll be able to swim alongside resident whale sharks!
Plan your trip now and enjoy this wonderland!